By: Logan Stefanich. KSL.com

Construction workers sign the final steel beam before its ceremonial placement atop the 40th floor of Astra Tower in Salt Lake City on Thursday. The 40-story tower in Salt Lake City's downtown will be Utah's tallest high-rise at 450 feet. (Laura Seitz, Deseret News)
SALT LAKE CITY — Hundreds of construction workers looked on as the final steel beam of the 450-foot Astra Tower — the tallest building in the state — was hoisted into a rainy sky Thursday for a ceremonial placing on the 40th floor."It means so much that you're here — not just that you're here, but that (you) were accommodated. You were anticipated being here. This is about you, actually," Salt Lake City Mayor Erin Mendenhall told the crowd of approximately 600 workers.The Astra Tower will be located on the northwest corner of 200 South and State Street, where an old fast-food restaurant stood until it was torn down in 2021. The Kensington Investment Company purchased the 0.69-acre parcel in 2018.The plan calls for 685,000 square feet of building area, which will include parking levels, retail space and 377 apartment units. The units will include studio, one-bedroom and two-bedroom options, as well as two levels of "exclusive penthouse units," according to Kensington.

There will also be features and amenities one might expect from the tallest building in the state, including a "residents-only" rooftop terrace with a big-screen TV, grill and social areas on the 40th floor. Other amenities in the plan include an outdoor urban park, a spa and fitness center, a clubhouse with a chef's kitchen, and a work lounge with conference rooms in areas of the building.

"Today, we are celebrating the placement of the final beam. This will complete the structural tower," said Matt Radke, chief opperating officer at Jacobsen Construction. "Their (the workers') collective expertise, resolve and tireless efforts have brought us to where we stand today. You have exemplified the values of hard work, dedication and teamwork."

Since the beginning of the project, over 1,000 workers have been employed for the construction of the tower, said Amy Christensen, executive vice president of corporate communication and brand marketing for Jacobsen Construction. Anywhere from 370 to 390 are working on any given day.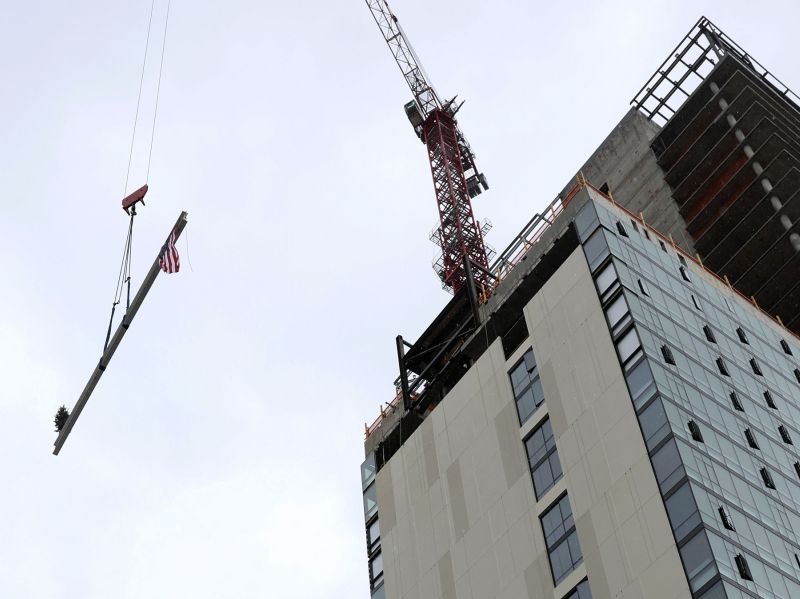 "Your contribution transcends the mere construction of a concrete, glass and steel tower. It represents the dreams and opportunities constructed for Salt Lake City," Radke said.
Mendenhall echoed these sentiments, equating the tower to a tree, or something that was "planted." And while it won't grow anymore structurally, it will do so and has done so in other ways.
"The thousands of families who've been impacted positively by the building of this space is going to, in turn, create space for thousands of more families to live and thrive here in the city," Mendenhall said. "It is not unlike a great tree in a beautiful forest that creates an ecosystem around it."
At the tower's groundbreaking in January 2022, Kensington and Jacobsen officials said they plan to seek LEED Gold certification in environmental standards and WELL Building concepts once the building is complete. The latter seeks to reduce negative impacts on the environment by reducing air pollution and optimizing water conservation.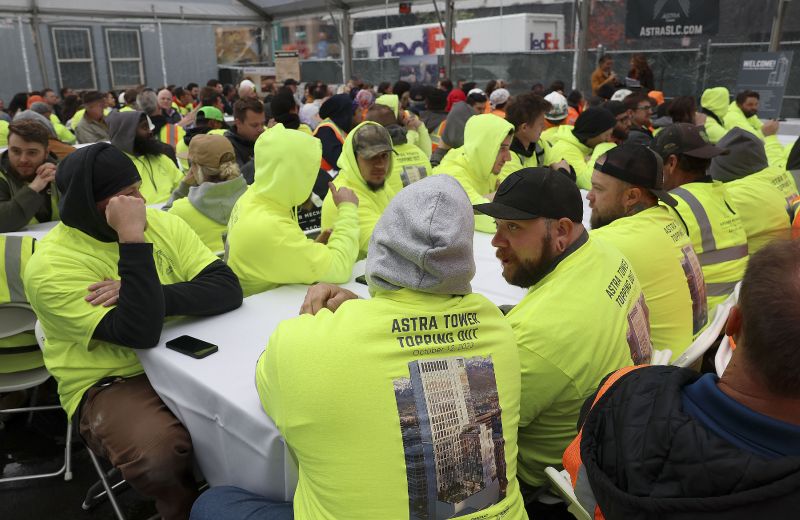 "I'm thrilled to see the Gold LEED … from the sustainability side. As we build all of our communities in Salt Lake County and especially in the heart of our capital city, that sustainability is so critical and so important," Salt Lake County Mayor Jenny Wilson said. "I love to see this downtown thrive and have us modernize, and frankly, every unit that we build has a trickle-down all the way to deeply affordable housing."
As the beam was finally lifted high into the Salt Lake City skyline, the workers that have been hard at work on the construction of the tower let out rounds of triumphant cheers.
"When I look up at Astra, as I often do and I know you do as the builders, but Salt Lake City has been watching you build. We've been watching you grow higher than any other building in the state of Utah and we are so proud of you," Mendenhall said.
Photos